Besides registration and exam dates, SAT test taking techniques and study tips, there are some other important things we share with our SAT prep students to know about when preparing to take the SAT exam. We encourage students to be thoughtful and approach the SAT with confidence and also with a solid plan for success.
SAT Registration and Exam Dates
Juniors and seniors, secure your place on the exam date of your choice by registering early. The College Board website provides the test schedule and locations as well as online registration. If you are planning to take it soon, be sure you are aware of the next test registration deadline.
Best time to take the SAT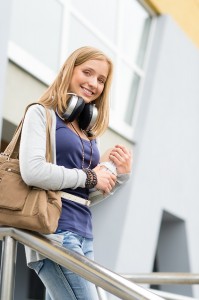 Our experience has shown that students who are already familiar with the SAT exam do better than those taking the test only once. Repeating the SAT often results in a higher score the second time.
To optimize your college entrance exam scores, one good tactic is to build your confidence and familiarity with the test format by taking practice exams as well as  real exams more than once. Our recommendation to students who want to get the best score they can is to take the PSAT/NMSQT in their sophomore year, then follow up with the SAT in the fall or spring of their junior year, and then take the SAT again in the fall of their senior year.
In any case, you can choose which SAT scores to send to colleges (some schools may want to see all your scores, but they will usually only consider the best ones). And, taking the PSAT first and then taking the SAT more than once gives you opportunities to improve your chances for scholarships and, with your better scores, for ranking well enough to get into the school of your choice.
What about the new SAT format?
The SAT has been redesigned to make it more relevant to today's students. We've summarized some of the changes for you. Overall, we think students will be comfortable with the new exam, but they should be careful to understand what will be on the test and to prepare carefully for it.
What's the best way to prepare for the SAT?
The biggest barrier to success on the SAT is not preparing, and by not preparing we mean both just before the exam as well as building a strong foundation in the years before taking the exam.
The long term
Students seriously planning to go to college and wanting to do well on the SAT should be preparing throughout their middle school and high school years. Being academically prepared for college is after all a reflection of your entire education career, not a result of some last minute cramming.Things to keep in mind for high school freshmen in particular:
Take challenging classes throughout high school and work hard at them
Read a lot and read for fun to build critical skills like vocabulary, reading comprehension, writing and reasoning
Take the exam while the math in particular is fresh in your mind
Take the PSAT in your sophomore year in order to be familiar with the SAT format and to find out where you need to focus review efforts – and you can qualify for scholarship money at the same time
The short term
In the months, weeks and days before the exam, here are some things to remember:
Review and practice – even if you're an A student, it's important to review the subject matter, particularly math that you haven't used in a while, and be familiar and comfortable with the test format by completing at least one practice SAT
Stay on track for best results – Don't cram at the last minute, it doesn't help and raises your stress level. Plan out a solid, disciplined study plan carried out 8-12 weeks before the test. If you meet your study goals, on test day you will feel comfortable and prepared.
Test day – Small missteps on test day can really throw you off and have a negative impact on your score. Make sure you have everything you need laid out the night before, be well rested, eat sensibly the day of and the day before so you feel alert, and show up on time, ready to succeed.
Find out more about Z Prep's individualized SAT prep programs that are built to fit your schedule, your style and your particular needs so you can do your best on the exam.