Secondary School Admissions Test Prep
Selecting and applying for a private or independent elementary,middle or high school is a key step in your child's education and preparation for continuing on into higher education at a college or university. Once you've narrowed down the schools to your best choices for meeting your child's needs and goals, you'll want to give your child the best possible opportunity to be admitted to his or her school choice.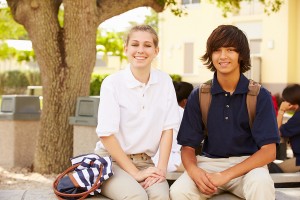 Virtually all private and independent schools require students to take an admissions test to determine their readiness for the school's curriculum, determine placement and be sure the child will be successful in the school. If your child is applying to a competitive secondary school, it's important to prepare him or her for the admissions test. There are two main secondary school admissions tests that a child may be required to take, depending on your choice of school. Both tests are norm-referenced, that is your child's score will be ranked against others at their grade level who have taken the test.
Secondary School Admissions Tests: SSAT and ISEE
SSAT (Secondary School Admission Test) – Administered by SSAT Board to private school applicants, administered grades 3 and up, at Elementary, Middle and Upper school levels, 8 times per year.
ISEE (Independent School Entrance Exam) – Administered by ERB for independent schools and specialized public school admissions, grades 2-12, scheduled test dates throughout the year at different locations.
Z Prep! Tutoring for Secondary School Admissions Tests
To help your child do his or her best on these exams, Z Prep! offers in-home or online tutoring programs for both the SSAT and ISEE tests. In addition to one-on-one tutoring the program includes materials and added preparatory exercises such as timed practice tests. With our one-on-one tutor match system, your child will receive a well-rounded, individualized review as well as learn test taking strategies and techniques to improve his or her performance.
Don't leave your child's private secondary education choice to chance, enroll him in an admissions test prep course with Z Prep! today.
Z Prep! Tutors are here for you! 
Improve your SSAT and ISEE Scores with our tutoring program today!
Call 855-472-9752 Today or click here to request a consultation!