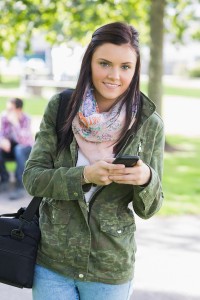 Struggling with those review books for your upcoming ACT or SAT exam? Supplement your materials and tutoring with a smartphone app. Turn your smartphone or tablet into a handy anytime-anywhere study center that lets you refresh and review on the go, or just on the sofa.  Smartphone apps, both fun and convenient, can add a valuable extra boost to your test preparation program, so here are a few to consider:
Study Apps for the SAT
Adapster – This app is specifically for students looking for practice for the SAT Math section, providing 1000's of practice questions, study aids and solutions, and diagnostic tests to help you adapt your area of focus where you need it most.
SAT Connect – $24.99, but worth the price, this app hosts more than 7 practice tests for the SAT, 4,000 vocabulary words, and 1,000 sample test questions with full explanations of the answers and a review section to help with studying essentials.  And, it allows you to connect with other students in your area and form your own study groups.
SAT Up – This app offers "the world's most advanced mobile SAT test prep solution" including a daily workout of practice questions and test challenges, personalized to the student's skill level. With a detailed report and even a time management function, you can't go wrong with SAT Up.
The Official SAT Question of the Day – The College Board official app is free and one provides a question every day from each of the three SAT test sections, and keeps an archive of previous weeks' questions to reference.
Study Apps for the ACT
So, select one or more apps, and you've got some great study tools at your fingertips, any time of day or night. Take advantage of your new app to sneak a bit of practice into your busy schedule. You can answer a few questions between class periods, learn some vocabulary after dinner, or tackle a math problem during lunch break. For junior and senior high school students looking to excel on their standardized tests, downloading one of these apps and tutoring with a Z! Prep in-home or on-line test preparation tutor will put you on track for a great SAT or ACT result!