In general, most working adults, particularly those in the millennial and the now college-bound "Z" generations, will change careers several times during their professional working life. This trend seems here to stay. Technology is changing so fast that many workers will find themselves shifting into emerging fields that don't even exist now. But that doesn't mean you should ignore the importance of choosing a good major and career path that fits you. Where you start out can have a huge influence on where you end up.  And with education costs rising, making a good selection early can help you get through college faster and hit the ground running in your newly chosen field.
Here are a few things to think about and resources to use as you consider your choices for a college major and career path: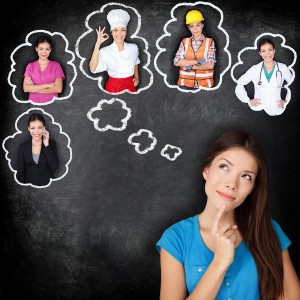 Listen to You. Think about what makes you tick. Are you an extrovert? Are you happiest in large groups, taking charge and being a pack leader? Maybe you are an excellent communicator. If so, sales, management and communications could all be fields where your natural talents and personality would shine. Or, are you an introvert? Do you prefer to curl up with a good book than go to parties? Do you prefer small group interactions involving deep conversations? You might enjoy a career as a researcher, psychologist or editor. Matching your natural style to your career will make you a happier and  better worker, so be honest and follow your instincts.
Compare what you are good at with what you like. You may be familiar with Venn diagrams from math or statistics class. For example, here's one for considering education and career choices. Draw three slightly overlapping circles. In the first circle write down what you like doing. In the second, write down what you're good at, in the third enter careers you are considering. Now think about where there are commonalities and draw lines from those into where the circles overlap. These may be good areas for you to focus on.
 Take a general career test. A lot of us really aren't that sure what we want to do and aren't all that familiar with careers in general. If you are interested to find out more in depth what interesting choices might work for you that you haven't considered, visit with your counselor and ask about any career test or tools that can match your aptitudes with possible careers to consider. You can also find helpful free career surveys online. Even if you don't find the career of your dreams in the results, the questions themselves can help you think about fields that might interest you and ones you would rather cross off of your list.
 What type of lifestyle do you hope to achieve? Success has many definitions and the key is finding something that makes you happy and fulfilled:

Perhaps your personal needs are simple and mainly you just want to help people, animals or the environment. Your rewards will come from a sense of satisfaction for using your skills to accomplish good things. You could go into healthcare, environmental sciences, or become a veterinarian.
Maybe you want to build a strong track record and enjoy the comforts of success to show all your hard work is paying off. In this case, you might seek a sales, management or expert career like finance, engineering, medicine or law.
Maybe you love travel and adventure, and being able to travel overseas and work in interesting new places might be more your style. How about journalism, teaching or international business? Envision and write down the lifestyle that you picture for yourself.
Take advantage of real-world experiences. Employers want candidates with work experience. Having previous job experience demonstrates responsibility, builds job skills and shows you can apply yourself in real world work situations. You can use volunteering and internships as a way to find (or rule out) jobs that interest you. These experiences can lead to a career in the field, finding a mentor, gaining professional references and recommendations and making new business contacts. Look for opportunities in your local paper or on business networking sites like LinkedIn. Internships undertaken during your school program often offer college credit. The College Board's How to Find an Internship You'll Value, is a great resource for students.
Your career field is waiting for you. If you apply these tools you should be on your way to narrowing down your major and future career field.  But don't get discouraged if you work hard to select a college major yet still find yourself changing fields some time along the way. This happens to people more than you think, especially because college and work will expose you to so many new and interesting things along the way. You'll have a few great adventures and positive learning experiences that will make you better at, well,  whatever you end up doing.